Pantomime at the Gala Theatre 
Robin Hood!
As a result of Government restrictions to prevent the spread of Coronavirus, The Gala Theatre regrettably took the decision to keep the Gala closed in 2020.
We have received notification that the Gala Theatre are hopeful that the performance of Robin Hood can go ahead this year!
We have been allocated tickets for the 2pm performance of Robin Hood on both Monday, 27th and Tuesday, 28th December.
We are offering these tickets to members at a reduced price.
Tickets can only be obtained with a completed booking form.  These forms can be requested from the unison office via email unison@durham.gov.uk or by contacting 03000 263300.
Please find below poster for more information.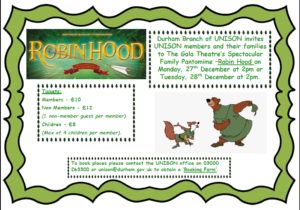 Coronavirus
Unfortunately, due to Covid-19 a lot of our services have been put on hold.
We are hoping to get membership services up and running again as soon as possible.
We will keep you all updated.